Dorot Alumni Profile: From Moment Magazine
This article originally appeared in Moment. For more articles on Jewish life and culture visit momentmag.com
By Jessica Carew Kraft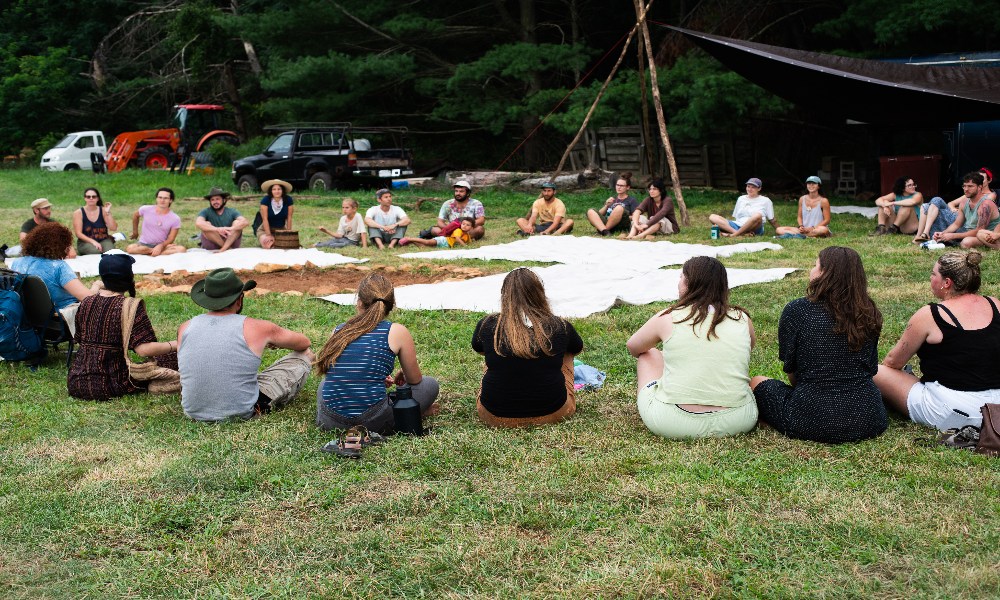 To properly make a long-lasting Shabbat candle from beeswax, you need patience, time and an understanding of the materials. The wax must be sustained at the right melting temperature, and as you dip a cotton wick string into it, you must pull it out slowly and let it cool before returning it to the wax to add another layer. That's according to Rel Brender, who led a handful of Jews in a Shabbat and Havdalah candle-making workshop at Melacha U'Vracha, a recent Jewish primitive skills gathering at a farm in Virginia's Blue Ridge Mountains. Brender says that this is the least efficient method, but it creates "the supreme form of candle." "Hand-dipped beeswax candles burn much slower than ones poured into a mold, and they clean the air as they burn, as opposed to those made of paraffin wax, which [as a byproduct of crude oil] pollutes it." Brender's workshop at the four-day camp-out near Charlottesville, Virginia, not only illuminated these facts but shed light on a crucial aspect of Shabbat.
More than 100 people interested in learning about the work of the ancient Hebrews formed a temporary community of makers and seekers. The gathering was a one-off event, funded by the Dorot Foundation, Moishe House and ticket sales. Sleeping in tents, eating communally, spending all day outside learning skills developed thousands of years ago, they were gaining an understanding of some of the 39 melachot, described in the Torah as the categories of labor that are forbidden to do on Shabbat. These include any kind of agricultural field work, animal slaughter, baking, cooking, making rope, tying knots, building, writing, drawing, and putting the finishing touches on any item. The gathering's co-organizer, Rachel Binstock, says that the 39 melachot are what ultimately create the meaning of Shabbat, but it is rare for Jews to practice the original forms of labor during the other 144 hours of the week, because modern technologies have made them mostly obsolete.
"The things that help us build holy space are what we desist from on Shabbat, but we don't do them any more in modern life," she says. "We don't know what it looks like to become deeply intimate with natural resources as we transform them into ritual items, tools and what we need to survive." Binstock and co-organizer Rahel Stein decided to hold an event based on these questions: What is possible for Shabbat if we actually do the melachot? And what is possible for Jews if they reconnect to their sources of food, clothing, shelter and daily items? 
Binstock, 32, grew up in an Orthodox family, pursued a career in farming and Jewish environmental education, and is now a student in the Design Leadership MA/MBA program offered by the Maryland Institute College of Art and Johns Hopkins Carey Business School. While previously living on the West Coast, Binstock attended several ancestral skills gatherings where she learned ancient human practices such as basket-weaving, animal processing and hide-tanning. Regaining these hands-on skills during an age of digital revolution and growing environmental concerns is part of a movement known as rewilding. 
Ancestral skills gatherings have been going on in the United States since the late 1970s, and with each year, more and more spring up. Today there are over 30 annual or bi-annual gatherings spread across America, Europe, and Israel, bringing more than 10,000 folks together during all seasons to learn how humans used to provide for their needs just from nature. But none of these gatherings are explicitly Jewish. "Even though I grew up with a deep Jewish literacy, I had to go outside the Jewish world to connect with nature and rewild," Binstock says. "But I had a yearning for a Jewish space for practicing these skills, because we have the framework of traditional labor built into Jewish tradition." 
She notes that most of the skills gatherings she's attended were not spiritually oriented, which gave her pause. While on a Dorot Fellowship in Israel in 2021-2022, she attended the Avnei Derech ancestral skills gathering, which was created by and for Jews, but didn't directly connect to Jewish observance. This prompted her insight about the 39 melachot, sparking her desire to create a gathering based on Jewish ancestral traditions. 
Of course, Jewish practice has always been based on nature and seasonal agricultural cycles, with many organizations springing up in recent decades to rethink the indoor synagogue prayer service and bring Jews outside to worship, celebrate and rekindle a connection to the land that was lost over centuries of increasing urbanization. Yet Melachot U'Vrachot may be the first event in American Jewish history that gathered Jews in one spot to do the melachot as they were originally categorized. And it was the first explicitly Jewish primitive skills gathering. While some melachot, like baking challah, are still widely practiced today, over the course of the four days, participants also processed animals, made shofars, built friction fires, and practiced the original, ancient form of scribal arts.
The enthusiasm during the gathering reminded attendee Josh Jacobs-Velde, a Reconstructionist rabbi from Maryland, of the early 20th-century Zionist reformers who wanted to balance out the yeshiva model of studying for 16 hours. "They were calling for a return to the land, using our hands and bodies again," he says. Jacobs-Velde, who leads Congregation Oseh Shalom in Laurel with his wife Rabbi Daria Jacobs-Velde, found the gathering inspiring for its emphasis on physical skills and its outdoor prayer services, which, for him, connected to the origins of Jewish prayer. "So many elements of our liturgy are derived from a psalmist in ancient Israel who had a deep relationship to the natural world and offered it praise," he says. With his two sons, ages 14 and 11, Jacobs-Velde also participated in the shechita, or ritual slaughter, of four sheep, led by Rabbi Chaim Edelstein.
A consumer of free-range kosher meat, Jacobs-Velde recognized that his experience with eating animals was nonetheless limited to the typical consumer experience of buying a package at the store. "I volunteered to hold one of the legs of the sheep during the shechita, and it was so moving and intense to see the life go out of the animal," he says. Being a part of the gutting, processing and hide preparation afterward also gave him a real sense of what happens to the animals before their flesh is packed in plastic and shipped to the grocery store.  
While all of the other meals served at the gathering were vegetarian and dairy-free, prepared on-site by a kosher caterer and volunteers, the Friday night Shabbat dinner was lamb stew, made from the animals processed on site. Jacobs-Velde said that his son had learned how to fashion dinnerware, and ate the stew out of his own handmade bamboo bowl. "He got this intuitive connection to this useful object that he had spent a lot of time on," he says.  
Most valuable to Rabbi Jacobs-Velde was a session that delved into sofrut, or scribal skills. Participants learned how to craft the kulmus, or feather quill, from Binstock. Psachya Lichtenstein from the Pearlstone Retreat Center in Maryland (which also headquarters Adamah, formerly Hazon, a Jewish environmental education nonprofit) taught traditional Hebrew calligraphy using ink made from iron sulfate and oak galls. An oak gall is created by a parasitic wasp. It resembles a wooden apple that the wasp tricks the tree into growing in order to create a safe shelter for its offspring. It is highly tannic and thus creates a dark ink when combined with iron sulfate and sometimes other adhesive materials. This is the ink that was used for a lot of ancient manuscripts, including Torah scrolls (some are still made with it today) and the Declaration of Independence. At the sofrutworkshop, Rabbi Linda Motzkin also explained the process of making traditional calfskin parchment for the Torah, which is part of her work with Bread and Torah, a program out of Temple Sinai in Saratoga Springs, New York, that teaches the traditional process of making both spiritual and physical sustenance.
                         WATCH: How to make Oak Gall Ink, from the British Libary
While Jacobs-Velde says he will not likely start integrating many primitive skills like sofrut into his daily life, having a better understanding of the material construction of the Torah is something he will call on moving forward. "I do spend a lot of time showing kids and adults a Torah scroll, so to have that deeper connection to what goes into the actual writing and how the parchment is made is very useful."
Other sessions provided instruction in tanning hides, making spoons, weaving, dyeing and felting various fibers, and learning about the local ecology. Participants camped out in tents and gathered in the central communal space every day where breakfast and dinner was served. During the hot days, folks cooled down in the swimming pond, which became a touch point for the celebration of acceptance that the gathering cultivated because most swimmers went in without clothing. "The pond was really magical," says Rel Brender. "Even though we had so many different levels of observance, everyone was really respectful and it was a very healthy thing to go into those living waters nude, like we were doing a mikvah all day," Brender recalls. 
By the time Shabbat rolled around, she says, everyone was ready for the well-deserved rest. There were a handful of options for prayer services, intended to accommodate several different levels of Jewish observance, including a solo walk into the woods. Yet this temporary community was characterized more by unity than difference. The communal aspect of the whole experience—sleeping, eating, working, swimming and praying as one group—was perhaps the most powerful part of the gathering.
Communal life has suffered, as the amount of time devoted to digital and desk work has expanded, much of social life has moved online, and people isolate in their homes and cars. "Funders in the Jewish philanthropic space are not totally awake to this growing movement for outdoor communal life, but it's an urgent need, especially for Jews entering adulthood," says Brender. While Jewish summer camps provide this for the younger set, and Shabbat retreats offer short communal immersions for families, Melacha U'vracha gave participants a taste of how they'd like to live on a regular basis. "I'd love for my life to be like this, where I can participate in collaborative song, eating and sharing space, and being outside," Brender says, envisioning that the experience could be replicated across the country, and supported by Jewish community foundations. "It was a sweet reminder that we evolved to do this." 
A full group shot of the community that gathered for Melacha U'Vracha 5783.